If you see a VPN (Virtual Private Network) error message, this means that our system has detected that you are using a VPN, proxy, or "unblocker" service. Our content is available in specific regions and Viki's Terms of Use prohibit users from using technology or other means to circumvent our content protection mechanisms.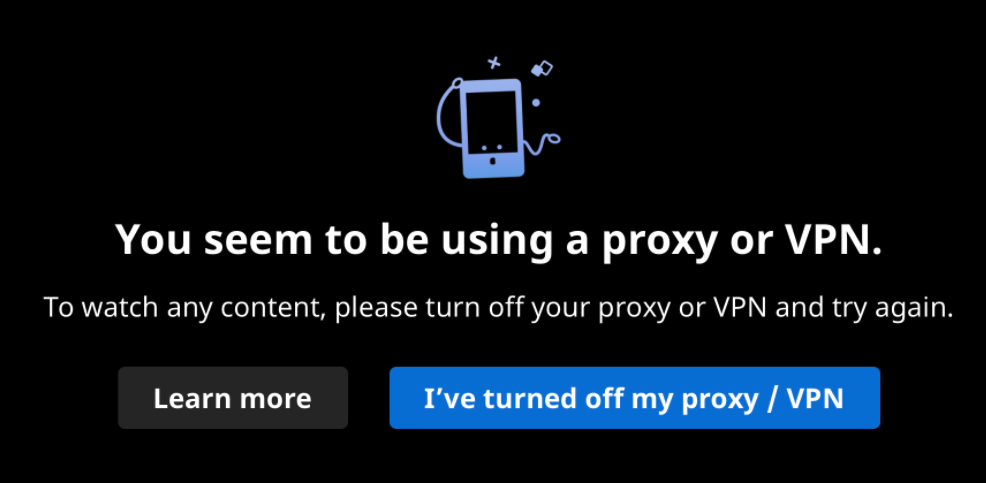 Important
You are only able to access content that we make available in your region. Any Viki Pass or Rental purchased using a VPN or proxy service will not be available to you subsequently, and we will not provide a refund for such purchases. View our Refund Policy here - Viki Pass / Rental.
To resolve the above error message, please follow these steps to troubleshoot:
Turn off VPNs, Proxies and any Bandwidth-sharing apps
Disable all proxies and VPN services and any bandwidth-sharing apps.

Set your device's network settings to

Automatic.

If you need help disconnecting from these services or restoring your connection's default settings, contact your device manufacturer or internet service provider (ISP).
---
I've turned off my VPN, why am I still seeing this error message?
Delete the cache and cookies from your device (Web & Android Only)
To learn how to delete the cache and cookies from your device, please visit this FAQ here.
Submit a Report
Viki uses a third-party provider to manage our VPN/Proxy services. Submit a report so that our provider can investigate further. Once you make your report, try watching again in 24 hours.
Note
You will be redirected to an external website and by completing the form, will be sharing your data with external parties.
Restart your device
Reboot your device and try again.
Contact your ISP
If you disabled proxies, VPN services, or other routing software but still see the error message, please contact your internet service provider (ISP) to determine why your internet protocol (IP) address is associated with proxy or VPN use.