When you post a review, beyond just sharing your thoughts on the show you've watched, you are also helping another Viki viewer decide if they should watch a show or movie. So, always aim to write the type of reviews that you'd like to read from others, too.
Imagine yourself as another viewer reading your review: Is your review meaningful? Can you find enough information to help you decide if you'd like to watch the show, without revealing too much of the plot?
We've developed Reviews guidelines as well as best practices to help all Viki fans have a positive, and beneficial experience. The Reviews guidelines detail the dos and don'ts, and best practices tell you how you can write a good and feature-worthy review.
Reviews guidelines
Submit a rating and/or review for a show only if you have watched it. Do not leave ratings or reviews on shows that have not aired, or that you plan to watch but have not.

Similarly, do not submit ratings for the sole purpose of manipulating a channel's overall rating to favor or disfavor an artist or idol.

Be relevant. Only write about the content of the show; any subtitle availability or technical feedback is not a review and is subject to removal.

If you'd like to start a new conversation or ask a question about the show, use the comments section instead. The Reviews feature does not support replies.

Remain objective and respectful. A show can be good, bad, or indifferent, and you should express your honest opinions; we ask that you remain objective and respectful while doing so. That means critiquing the plot, performance, writing or cinematography, etc. instead of personal attacks on cast or production units.

If your review is predominantly about a cast member's behavior and/or personal life, it may be removed

Reviews containing any form of hateful language or hate speech are not accepted.

Viki Community Guidelines

apply.

No spam. This includes the overuse of emojis or symbols to make up for the minimum character count to submit a review. Reviews made up purely of emojis and/or symbols, or containing more than 10 emojis will be removed.
What makes a good (or feature-worthy) review?
Form an opinion
Did you like the show, or did you not? Remember you're not writing a summary or another show synopsis; other viewers are reading your review to find out what you think and feel about it.
Be creative and original
Avoid generalities like "Great acting" or "good plot". Instead, go on to describe what made the acting great, or what made the plot thick and good. What spoke to you and what did not?
Analyze and discuss the creative elements
Did you notice any exceptional dialogues, characters, use of colors, camera techniques, or soundtrack that enhances or betrays the storyline? Discussing creative elements like these will help Review stand out from the rest.
Leave out the spoilers!
The true art of a good review is the ability to discuss or critique the plot without revealing the entire storyline. But if you must, be sure to check the "Spoiler alert" checkbox before submitting your review.
Organize your thoughts
Never underestimate the importance of a well-structured review! A structure helps you focus and write your review in a logical flow.
Here are some feature-worthy reviews that we really love!
"There's not much to say that hasn't already been said but honestly this drama really holds a unique charm like no other. In terms of cinematography I can confidently say I have never, in my years of watching k- dramas, seen anything quite like it. Every shot has an amazing authenticity to it and the palette for each frame is stunning, it feels just like a movie. It's good at focusing on the details that create a view of life seen through the eyes of those living it. It strays from the widespread use of commercial lighting and taking one shot from 20+ angles and instead focuses on the brilliant visual storytelling and the raw emotion between characters.
In fact this drama embraces authenticity in all its beauty. You won't see any over the top scenes or wasted emotion. This drama stays raw and conveys true emotion to the heart.
The characters feel incredibly real and all their hopes dreams and fears are relayed to the audience in a way that helps us empathise with them. Both Junho and Won Jinah are incredible in their roles and they create beautifully passionate and tangible emotion in every scene they are in. The chemistry between the characters very much fuel the show and the supporting cast are excellent in building a real world for the whole story."
Review by shenuriuk_512, for Just Between Lovers, ★★★★★★★★★★
"Well, not quite what I expected, but entertaining nonetheless. With an exceptional cast, I thought the movie would have been of much higher film quality. The cinematic CG world building was a bit drab. Likewise, the narrative didn't flow as smoothly as it should have even though the concept was intriguing: the writing was off kilter. But, all in all, it was a good flick! Like many others, I have a great deal of admiration for Xiao Zhan's performance"
Review by morebon00_307, for Jade Dynasty, ★★★★★★☆☆☆☆
"This was one of the best movies that I have ever seen in the Viki Library. It is highly entertaining and moving and will be worth every minute of the 2-hour investment of your time. It was a message film that took a look at the things in the world that divide mankind. You saw in this film just how ugly prejudice, racism, inequality, unfounded fears, political extremism, hatred, and war really are. You are also forced to think about your belief system and to ask yourself what beliefs are more important than valuing human life, human freedom, and human contributions no matter where humans are on the planet?
The ending of this film will drive a dagger in your heart. It ends this way because I think the writer wanted to remind us that we cannot change the past. Putting lipstick on a pig does not change the pig into a beautiful woman. We cannot change the past, but we can live in such a way to redeem our past mistakes and rewrite the future. The future is ours to influence, so let's really put effort into making a better world.
I don't want anyone to be deterred from watching this movie thinking that the movie does not have really bright and entertaining spots because it does. The performance and dancing of D.O. (Korean Idol from EXO) and Jared Grimes (an American Actor) was off the charts. After seeing this film, I have great respect for the amount of time and training it must have taken both actors to pull off their many dance scenes. I have a newfound respect for D.O. as a "real deal" HallyU actor and not just a boy band singer. I also really hope we see more of Park Hye Soo in the future. She was nominated and won the "Best New Actress" award at the 39th Annual Golden Cinema Film Festival in 2018 for her role in Swing Kids. She was AMAZING!!!!! Finally, I just loved Kim Min Ho---he kept me laughing in every scene that he was in---he was the comedic relief needed for such an otherwise serious film.
This is a "must watch" film for Viki fans. It is unique because it is an American/Korean collaboration. A lot of English is spoken in this film. Annapurna Films is an American movie production company that produced and financed the film. Next Entertainment World was the film distributor and they are located in Seoul South Korea. The writer and director, as well as most of the actors in the film, were Korean. However, the film definitely has an American polish to it and it is considered a global film---it was released in 23 different countries."
Review by johnrodgers2014_565, for Swing Kids, ★★★★★★★★★★
How do I report a Review?
If you'd like to report someone for failing to follow the guidelines, please do so by flagging the review.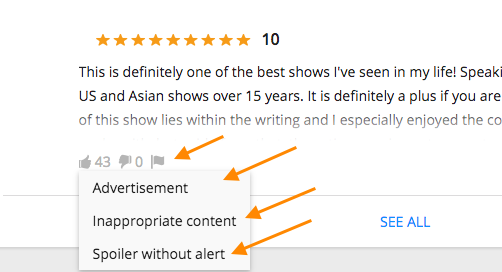 At Viki, we love our community and we want to empower you to look after one another. As such, we expect you to use the reviews and the reporting system around it responsibly. If we detect any abuse, we may have to suspend or ban your account.