Resetting Your Password
Check that you are logged out of your Viki account
Visit viki.com/forgot-password
Enter your email address and click "Reset Password"
A reset password email will be sent to your inbox. Click on the link in the email and change your password.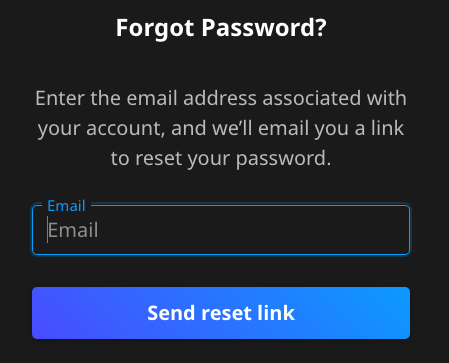 When resetting your password, it is advisable to: 
Use a

 

minimum of 12 characters for your password.
Include

 

a combination of uppercase letters, lowercase letters, numbers, and special characters

 

(such as !, @, #, $, %, etc.).
Avoid using easily guessable information:

 

Do not use common phrases, personal information (like your name, birthday, or address), or easily accessible data (such as your phone number or license plate number) as part of your password.
Create a unique password for each account you have. Do not use the same password for multiple accounts.
Change your password every few months to keep your account secure. 
Make sure to check your Spam folder if you can't find it in your inbox.
  I have not received the reset password email
Check your spam, junk, or promotion folder and any email filters you set up. 
  If you can't find the password reset email after checking your spam folder, try adding noreply@viki.com to your contact list. Then, try sending the password reset email once again.
   There might be some delay with your email provider. Please wait 2-5 hours, then recheck your inbox.
  You did not provide the correct email address. Please try again with the email address you used when you registered for a Viki account.
  You misspelled your email address. Please double-check for any typos and make sure you are typing your email address correctly before trying again.
  If you still are not receiving the reset password email, write us at http://bit.ly/VikiHelp and include any screenshots of the error message(s) you are seeing.
  I see a "Too many attempts" error message
An error message stating "Too many attempts" may appear after multiple failed login attempts. If this happens, please take either of the following steps:
Wait for the time limit to expire
If you do not wish to wait for the timer to expire, you may reset your password
Time limits can range from 30 seconds to 24 hours, depending on the number of failed login attempts.